The African Law Foundation: Advancing Justice, Rights, and Development in Africa
ICoCA CSO Member since October 2017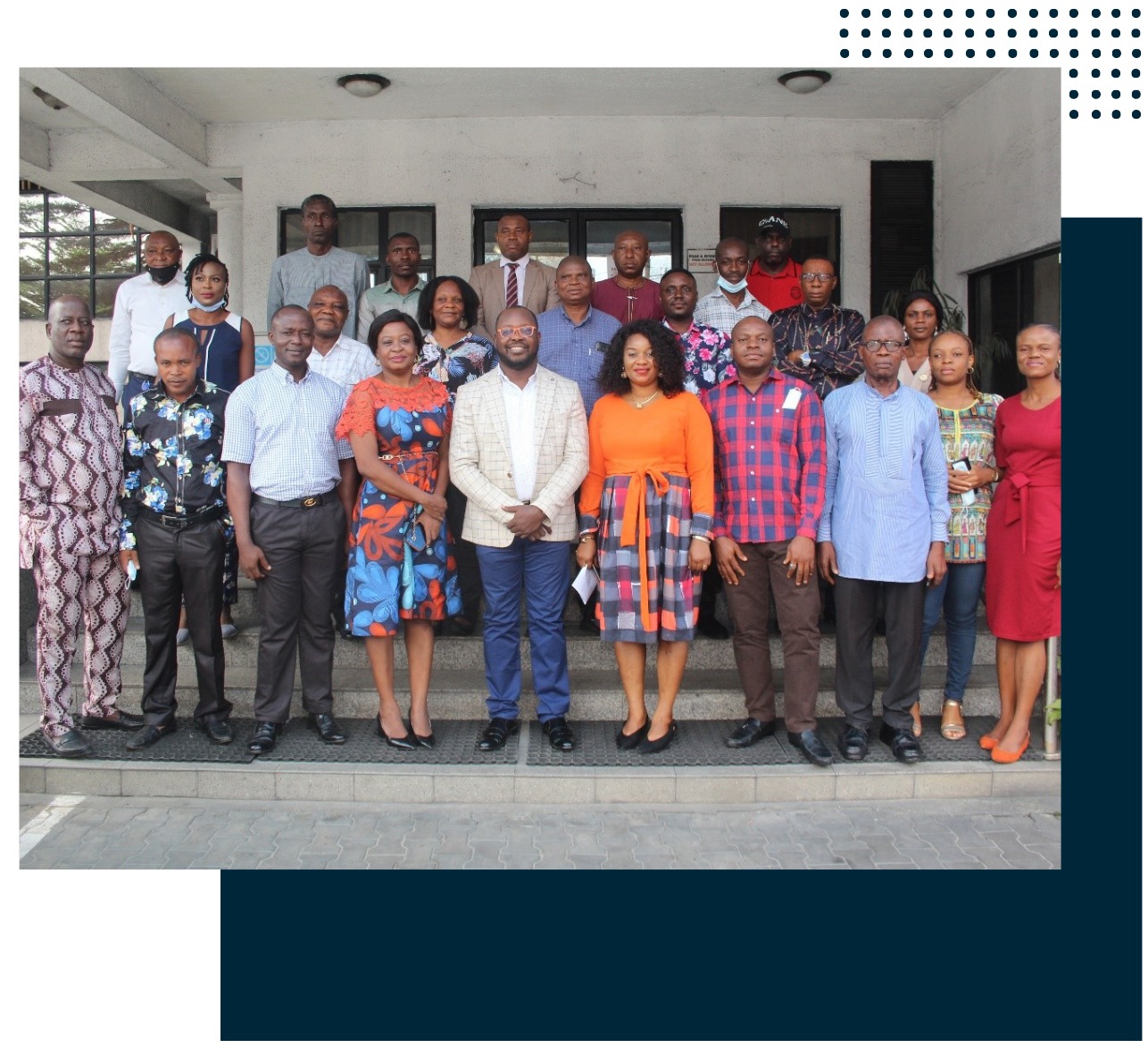 Empowering Communities for a Just and Equitable Society
The African Law Foundation (AFRILAW) is a Nigerian non-profit and non-governmental Law, Justice and Development organisation founded in 2013, with its Headquarters in Abuja and a branch office in Enugu. With a dedicated team of 9 employees, AFRILAW strives to make a meaningful impact in Africa and promote a just and equitable society.
AFRILAW engages in a range of initiatives including policy advocacy, capacity building, legal aid services, campaigns, and awareness-raising to promote the rule of law, protect human rights, ensure access to justice, and advocate for peace and human security. These efforts encompass various activities such as community development and mobilisation, research and documentation, consulting and technical services, as well as fostering partnerships, network building, and coordination. The organisation also addresses a wide range of other topics, such as gender justice, public health, drug policy reform, anti-corruption, refugee and migration issues, poverty eradication, environmental sustainability, access to justice, peacebuilding, constitutional and justice sector reform, minority and disability rights, international criminal justice, business and human rights, economic and social rights, and democratic governance.
AFRILAW's Pioneering Efforts
In 2018, AFRILAW emerged as a highly experienced national NGO by initiating the first-ever national development project on private security governance and reform and responsible private security services in Nigeria through the implementation of the Baseline Study on Private Security Governance in Nigeria Project (2018-2019). Since then, together with its partners, AFRILAW has implemented other development projects and programmes, which have resulted in the production of various publications, such as the Baseline Study (2019), a guide on governance challenges (2021), and a report on private security services during the 2023 elections in Nigeria (2023).
It holds a unique distinction as the sole national NGO in Nigeria to have obtained an official Letter of Partnership (LOP) from the Nigeria Security and Civil Defence Corps (NSCDC), the industry regulator. Additionally, AFRILAW has established a Memorandum of Understanding (MOU) with the Association of Licensed Private Security Practitioners of Nigeria (ALPSPN), the industry association devoted to advancing private security governance and reform in the country. Notably, AFRILAW's Executive Director is the sole Civil Society Organisation (CSO) member of the National Private Security Industry Law Reform Committee, which was instituted by the NSCDC in 2021. This esteemed position highlights AFRILAW's influential role in shaping policy and driving positive change in the private security sector of Nigeria.
A Member of ICoCA CSO Pillar in Nigeria, we asked Okereke Chinwike, Founder and Chief Executive Officer of the African Law Foundation, about the private security landscape in Nigeria and what role AFRILAW and ICoCA have to play.
Why has private security become a human rights issue in Nigeria?
The weakness of the public security system is a major contributory factor to the level of insecurity in Nigeria. This can be attributed to a number of factors, one being that the country is grossly under policed. As crime, violence and insecurity has continued to rise in Nigeria, so has the demand for private security services. However, Private Security Companies (PSCs) in Nigeria are poorly regulated. The Private Guards Companies Act is very outdated and out of touch with realities and challenges of modern private security services and there is a lack of adequate monitoring and supervision by the regulatory agency, the Nigeria Security and Civil Defence Corps (NSCDC). There are poor standards of operation and professional conduct in the industry. Most PSCs suffer from poor and inadequate capacity and professionalism resulting in many cases of unethical and unprofessional practices, crimes, brutality and abuses of human rights. The explosion of Private Security provision combined with ineffective governance and regulatory framework constitutes a huge problem for the industry in Nigeria.  The existence of many unregistered PSCs is worsening the security situation of the country, with many companies engaged in atrocities.
What motivated AFRILAW to join ICoCA in 2017, and what advantages has the organisation gained from its membership?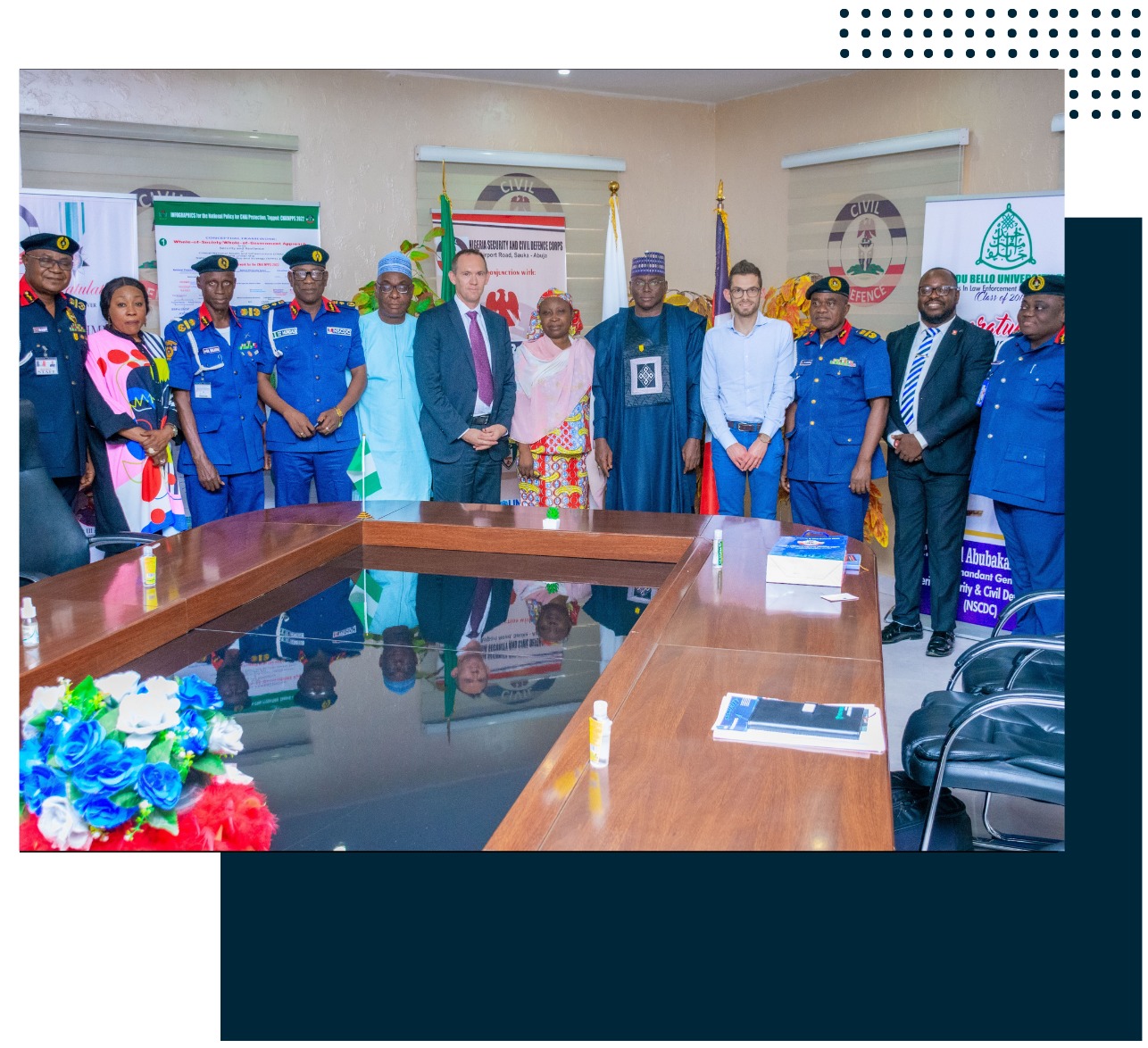 Since 2013, AFRILAW had been engaging policymakers and stakeholders in advancing business and human rights, corporate accountability and security sector reform and governance in Nigeria and across the globe. Becoming a member of ICoCA was therefore a great opportunity for AFRILAW to expand its network of partners on security sector governance particularly in the area of private responsible private security services in Nigeria. ICoCA membership has created the opportunity to learn and build AFRILAW's capacity on private security governance and responsible private security services, and has helped AFRILAW to become an official CSO Partner of the NSCDC in 2018.
It has also provided us a platform to partner and provide support to PSCs in Nigeria and promote the responsible provision of security services, engaging PSCs on human rights and ethics training; and promoting PSCs joining and becoming Members of ICoCA and obtaining ICoCA certification. In 2022, AFRILAW in partnership with ICoCA and in collaboration with Geneva Centre for Security Sector Governance (DCAF), MSS Global UK and NSCDC have launched and implementing the Nigeria Responsible Private Security Companies Training Programme in this regard. Becoming an ICoCA Member and partner has also helped AFRILAW to improve its work on Monitoring and Reporting of PSCs operations and practices in Nigeria, and also in promoting an effective complaints mechanism for violation of private security standards.
What are the challenges and opportunities for your organisation and for the Association in the years ahead?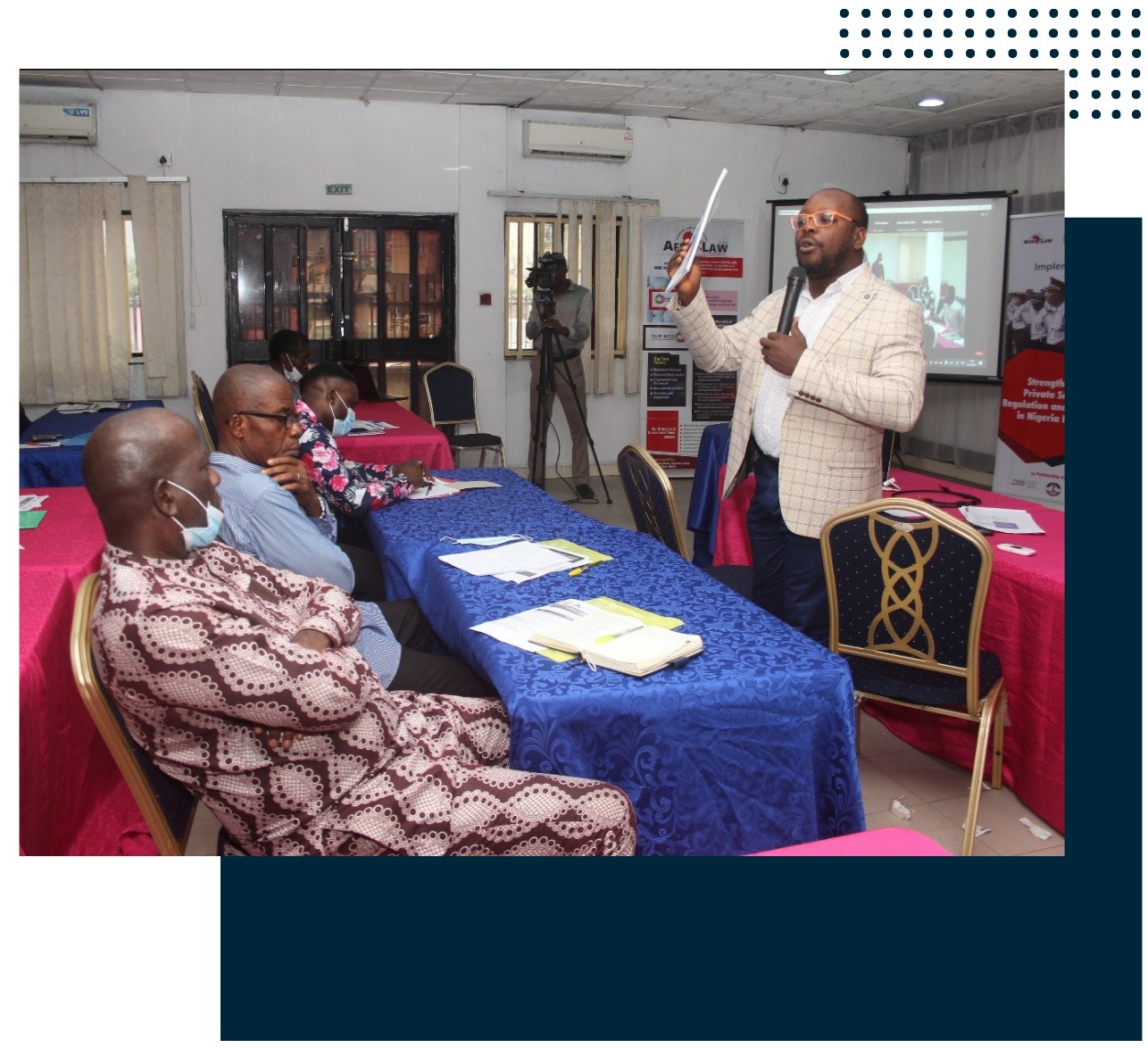 The Baseline Study on Private Security Governance in Nigeria Report (2019) highlights significant challenges in the private security industry with recommendations for reform. However, most key recommendations from the study remain unaccomplished. With approximately 1,500 registered PSCs in Nigeria, there is a need to train and sensitise more PSCs through the Nigeria Responsible Private Security Company Training Programme. The existence of an international voluntary multi-stakeholder initiative like ICoCA provides applicable guidelines, principles and good standards on responsible private security services that can be adopted and applied by the Nigerian government to raise standards in the industry in Nigeria. It is crucial to mobilise PSCs to join and obtain ICoCA certification, as Nigeria currently has only a few certified ICoCA Members. AFRILAW needs to expand its PSCs training programs, advocate for Nigeria's membership in ICoCA, encourage PSCs to join ICoCA and achieve certification, and strengthen the private security regulatory framework in Nigeria.
AFRILAW faces challenges in achieving its targets due to limited human and financial resources, including capacity development and infrastructure. To sustain and expand their work in Nigeria, AFRILAW seeks extended funding support and partnerships, including from ICoCA. Conversely, ICoCA also grapples with limited resources to sustain and expand its projects with AFRILAW in Nigeria and worldwide.
However, the private security industry is rapidly expanding in Nigeria, Africa, and globally, offering significant opportunities for growth and change. There is a favourable environment for private security industry reform and transformation in Nigeria now. The NSCDC, ALPSPN, and their members are expressing their desire and commitment to foster ongoing engagement and partnership to achieve private security governance, reform, and responsible services in Nigeria. While Nigeria is yet to join ICoCA, the NSCDC, along with the ALPSPN and its members, have expressed support in this regard. It is crucial to capitalise on the current momentum and aspiration for change to promote the necessary industry reform in Nigeria.
What are some of the key projects launched in partnership with ICoCA?
AFRILAW has engaged in various collaborative projects with ICoCA and other partners in Nigeria, focusing on raising awareness and promoting responsible practices in the private security industry. Events like the Policymakers Roundtable (2020) and the MDAs Consultative Meeting (2021) aimed to sensitise key government departments and agencies about international initiatives and garner support for Nigeria's membership in the Montreux Document Forum and ICoCA. In 2021 AFRILAW also conducted training workshops to educate private security service users and assist private security providers in aligning their practices with international norms. More recently, 2 major projects were carried out:
NIGERIA RESPONSIBLE PRIVATE SECURITY COMPANY TRAINING PROGRAMME (2022-2023):
AFRILAW, in collaboration with ICoCA, DCAF, MSS Global UK, NSCDC, and the ALPSPN, initiated and implemented in 2022-2023 the "Nigeria Responsible Private Security Company Training Programme". This project aimed to provide capacity building and training to PSCs for improved standards of operations, excellent service delivery, professional conduct, as well as effective private security governance and management systems. The training programme focused on increasing awareness and knowledge on existing obligations and best practices, while also imparting specific expertise on thematic areas such as the use of force, gender equality, and preventing sexual exploitation and abuse.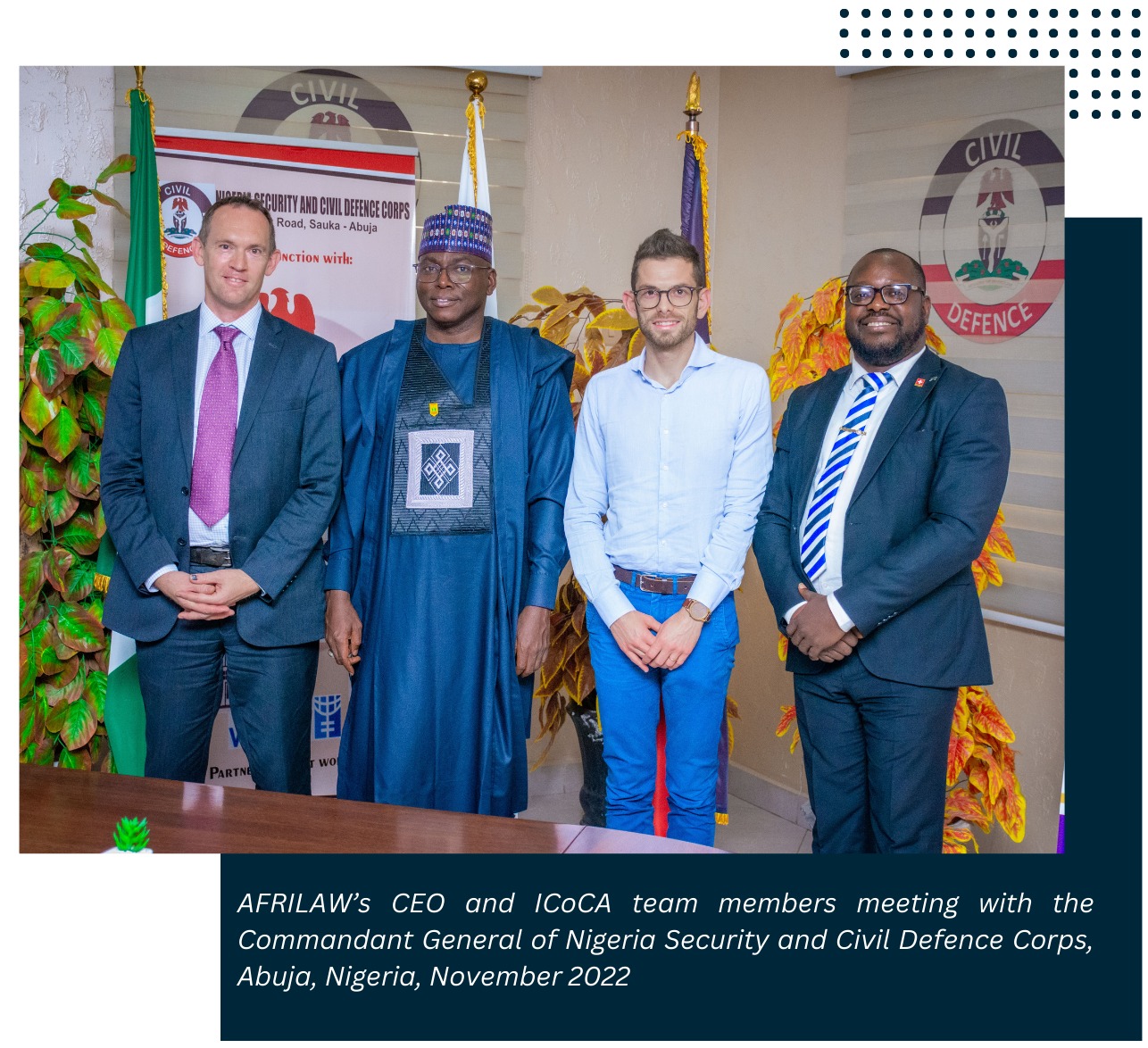 The programme included the organisation of five PSCs Training Workshops in Lagos, Abuja, Port-Harcourt, and Enugu, as well as a courtesy visit by ICoCA representatives and AFRILAW's Executive Director to the Commandant General (CG) of NSCDC in Abuja to seek official support for Nigeria's membership to ICoCA, which the CG of NSCD agreed to work towards.
Key results and achievements of the Nigeria Responsible Private Security Company Training Programme include raising awareness and providing training to approximately 120 PSCs on ICoCA and its certification process, international multistakeholder initiatives on security and human rights, ethical standards, and operational guideline. Participating PSCs were assured of long-term support in developing a culture that upholds human rights and addressing related challenges in providing responsible security services. They also gained knowledge on the benefits of becoming an ICoCA Member and obtaining certification in Nigeria, as well as the support available from ICoCA and MSS Global UK. Participants expressed the relevance of the training content to their work and anticipated that it would strengthen human rights practices within their companies. Some PSCs showed interest in partnering with ICoCA and AFRILAW for conducting human rights risk impact assessments, and all participating PSCs received certificates of participation endorsed by NSCDC and AFRILAW.
PRIVATE SECURITY AND ELECTIONS IN NIGERIA PROJECT (2023):
AFRILAW, in collaboration with ICoCA and DCAF, initiated and executed in 2023 the ground-breaking "Private Security and Elections in Nigeria Project." Implemented in collaboration with NSCD and ALPSPN, the project aimed to garner recognition and support from election policymakers and stakeholders for private security involvement in the 2023 Nigerian elections 2023. It also sought to establish a road map for effective private security governance and regulatory reform in the electoral process in alignment with international norms.
The project involved several activities, including the organisation of 4 Regional Sensitisation Workshops on Private Security and the 2023 Elections across the country, of 2 National Stakeholders' Forums on the same topic in Abuja, and the training and engagement of 10 CSOs to monitor and assess private security services in 10 States.
The project was the first-ever implementation of an initiative involving the participation of PSCs in Nigeria's electoral process. It led to increased awareness and support for the official engagement of PSCs in elections from key stakeholders, such as the Independent National Electoral Commission (INEC) and the Office of the National Security Adviser to the President (ONSA), and approximately 100 PSC representatives received training on good private security governance. The project also resulted in the adoption, production, and dissemination of a Resolution on Good Private Security Governance during the 2023 Election in Nigeria, which guided regional sensitisation workshops for PSCs. Additionally, a monitoring and assessment report was publicly presented to relevant stakeholders following the first-ever CSO monitoring and assessment of private security services during the elections.
To learn more about the African Law Foundation, visit their website.
Read AFRILAW's publications.