HXZA, a Chinese Private Security and Risk Management Solutions Provider
Joined ICoCA in September 2013
ICoCA Certified Member since March 2019
Hua Xin Zhong An (HXZA) provides a wide range of private security and risk management solutions in China and around the world. Manned guarding and security technology operations in mainland China remain their core service, where more than 28,000 employees protect offices and factories of domestic and international companies, airports, subway stations, universities, international missions, and more.
Outside of China, HXZA has numerous overseas operations and subsidiaries with approximately 400 employees. They specialise in providing armed security personnel for commercial vessels sailing through the (now former) 'High Risk Area' in the Gulf of Aden, and the Gulf of Guinea. HXZA also has licensed land-based security operations in South Asia, Africa, and the Middle East, providing guarding, security advisory, and technology solutions, as well as offering a comprehensive close protection and logistics service. Additionally, the company provides K&R response services to insureds as an appointed crisis response service provider by their Chinese and Lloyd's insurance partners.
HXZA became the first company from East Asia to obtain ISO 28007 and ICoCA certification, and the first in China to start the audit process for ISO 18788 and PSC.1. The company is on the steering committee for developing a Chinese national standard for security services and suggested to the committee that several key components of the International Code of Conduct for Private Security Service Providers (the Code), ISO 18788 and PSC.1 to be included in the National Standard.
We sat down with the management team of HXZA to reflect on the company's ICoCA Certification, its operating environment, and the challenges that lie ahead.
HXZA joined ICoCA in 2013 – why did you decide to join the Association?
HXZA has supported enhancing global quality standards in the private security sector since the company's incorporation. That is why HXZA was motivated to become a founding member of ICoCA in 2013 and received full ICoCA certification in March 2019, becoming the first company in East Asia to obtain it.
We believe becoming a fully certified ICoCA member is critical when operating in sensitive environments such as the maritime domain, and across Asia and Africa (our core target markets), and gives us a competitive advantage.
ICoCA provides a great platform, focused on the international market. It offers us a framework to develop our overseas business in a professional and responsible manner, to ensure sure we meet international legal norms and best practices, especially in International Humanitarian Law (IHL) and Human Rights (HR). This is important not only for our compliance, but also for our commercial growth and market positioning as it is a more sophisticated standard than what most Chinese, or even foreign Private Security Companies (PSCs) can achieve.
What impact has being an ICoCA Member had?
HXZA continuously strives to improve the quality of our services, promote a responsible brand, and be a force for good. We want to create positive impacts where we operate. There is no better way to show this than through ICoCA certification. It provides a review of our management systems beyond ISO to include social responsibility and human rights compliance too. ISO 28007, was for many years considered as the mandatory minimum standard in this industry, but once it became ubiquitous, it was not enough for compliance vetting at the top international and Chinese clients due to the nature of business. Enter ICoCA. ICoCA certification goes several steps further. It shows to our customers that HXZA's services remain market-leading, among an elite cohort of brands which have achieved this milestone. Thus, having ICoCA certification as a voluntary maximum standard in addition to our ISO 28007 foundation adds a major quality assurance confirmation to our brand and helps differentiate our service level from the competition. The certification has proven extremely beneficial to our company, not just for improving our operational standard, but also for providing a bona fide verification of the same to our clients, insurers, and regulators. Holding a valid ICoCA certification has been a deal-maker for us on more than one occasion, where the clients selected HXZA over significant competition thanks to the reassurance such certification provides as to our human rights priorities and compliance policies.
"Being an ICoCA member is also a great opportunity for networking and developing partnerships with other compliance-centered companies, which are verified by the Association to maintain the same standards as us."
Knowing we are all legitimate and serious market participants with the same compliance-culture and values makes discussion and design of partnerships, alliances, and joint operations easier for us and also provides more transparency and quality-assurance to clients. HXZA has been proactive in approaching other ICoCA members for joint ventures or subcontracting in their countries. Their ICoCA membership status is a calling card, and we seek out local ICoCA members for support and cooperation (usually subcontracting) whenever we enter a new geography. Our success from such tie-ups with other high caliber certified members of the Association has been invaluable. Along with this, we have been introducing our non-ICoCA affiliated local partners to the Association and inspiring them to join. We would encourage all ICoCA members to take a more active role in exploring win-win business opportunities with other members, and to suggest their unaffiliated partners around the world consider joining the Association.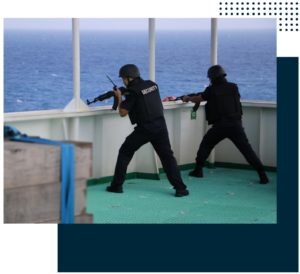 In what ways has the industry and operating environment evolved over time, and what aspects have remained constant?
Major changes occurred and continue to unfold in the recent years. The effect of the COVID-19 pandemic, especially in China is clear. For quite a while, a new focus of COVID screening services was imposed on security guards, not only in China but worldwide. Guards who were previously responsible for safety and security at client sites all of a sudden had a new focus—temperature checking, green-pass scanning, and mask enforcement.
But other industry-specific changes have occurred as well. For example, the maritime security industry is going through a period of consolidation, drawdown of services in the Indian Ocean with the removal of the so called "High Risk Area," a renewed concentration on Gulf of Guinea threats, and the development of unique countermeasures and solutions to mitigate these threats by regional states and the security industry.
Despite these changes, HXZA is in a stable growth position. Our market expansion reflects the profile of other medium size Chinese business in general, going from national to international and taking a leading role in development of novel security and risk management solutions to meet the wide range of client requirements. Our growth in the maritime sector, in particular, is based on foreign vessel operators, who now see the quality and effectiveness of our Chinese-led solutions. This is partly thanks to their recognition and impression with our ICoCA certification.
What are some of the challenges operating a responsible security company in these environments?
Localisation. We have evaluated the market by looking at what works and what does not. Not only for HXZA or Chinese PSCs, but also foreign companies. Ineffective localisation has caused business failure for many others.
To avoid these pitfalls, we develop and implement a localisation plan in the countries where we may operate, including taking into account legal, social, and human rights due diligence. While always ensuring legality, we recognise that operating in complex environments overseas with 100% Chinese security teams is not effective from a localisation perspective. If our personnel do not speak the local language, know the local customs, have the relevant licenses then of course the operation will be challenging or impossible. To remedy this challenge, we vet and hire local nationals to augment and support our activities, usually in mixed teams: Chinese and Local.
As ICoCA celebrates in 2023 its 10-year anniversary, what are the challenges and opportunities for your company and for the Association in the years ahead?
Technology. The need to integrate and utilise technological solutions to counter sophisticated threats is the future pivot of the industry – not necessarily as a replacement for manned guarding, but as an additional tool to provide holistic, layered security solutions to clients. For example, to counter the threat posed by armed and unarmed drones and Unmanned Aerial Vehicles against concentrations of people and critical infrastructure. This is a threat paradigm for which HXZA has developed several layers of anti-drone protective solutions for clients, successfully countering one of the most dangerous global threats.
ICoCA's Code modifications in late 2021, expanding the scope of the code to encompass a wider range of security and risk management solutions, arguably including technological solutions and countermeasures, opens a tremendous opportunity for the Association to take a prominent role in these market segments going forward, especially in navigating the industry through the overlapping IHL and HR considerations which may be relevant in this new, increasingly digital, complex environment.
Learn more about HXZA by visiting their website.