JO ANTHOINE OF GARDAWORLD ON BEING AN ICOCA BOARD MEMBER
12/01/2021
Profile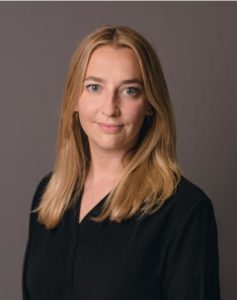 Jo Anthoine is Director of Risk & Welfare at GardaWorld, the world's largest privately owned security services company and an ICoCA Certified Member company. We asked Ms. Anthoine about her appointment and what she hopes to achieve during her tenure on the Board.
Can you tell us what it means to represent 'industry at large'?
The industry has changed enormously over the last fifteen years and I feel that having someone with my background sitting on the board is representative of that. I am not ex-military and throughout my career the focus has been on welfare, which reassuringly my employers have increasingly prioritised. When I first started working in the PSC sector it felt like there was a lot to be done to improve its poor reputation and raise standards across all areas of delivery. There has been much great work done towards achieving this and ICoCA has been a key player in that process. We have seen a refocus of priorities and a far greater adherence to the protection of human rights. What used to be a very homogenous workforce is now increasingly diverse with an increase in gender parity and racial diversity at management and board levels. I am proud to be representing the industry at large and working with ICoCA, an organisation that strives for continuous improvement.
What does your role at GardaWorld involve?
My role is quite diverse, which is great as it keeps life interesting and means I am always learning. I oversee corporate risk and welfare for our Security Services Middle East and Africa division (SSMEA) and our Travel Security division. I monitor, advise and present on Corporate Risk Management, which includes managing our global insurance programme. The welfare side of the role includes oversight of our clinical governance, medical and mental health support (including medical evacuation), family liaison and most recently contractor and employee engagement. I am also a member of the CSR panel, I chair our Risk and Audit working group and sit on the SSMEA Oversight Board, for which I report on corporate risk.
How do you think this experience may help your work on the ICoCA Board?
My experience is diverse and I have spent time working in our regions of operations, which I think is key to ensuring authentic representation. Spending a significant amount of time in-country and witnessing first-hand the issues PSCs encounter has provided me with a true understanding of the PSC sector.  I have spent much of my time in the industry working on improving standards, with a focus on mental health and human rights which I think compliments the other board members' experience.
What do you consider the main challenges and opportunities facing ICoCA in raising industry standards?
I see client awareness and their buy in as the biggest challenge. It really drives the appetite for ICoCA membership and I think is key to making it the norm for anyone operating in the industry. I've made the point previously that just because a PSC is not a member, it doesn't equate that they are not focused on the areas covered under the code. However, I think to achieve the high standard that ICoCA strives to across the sector, we really need clients to identify it as a differentiating factor or a requirement to bid. At a time when many clients are facing financial difficulty and cost saving is an absolute focus, we must work hard to ensure they don't lose sight of what is important when identifying a potential provider. Now more than ever I think communicating with clients and reminding them of what it means to be an ICoCA member, is key.
Are there any particular issues you'd like to focus on in the coming three years?
Over the next coming three years I would like to assist ICoCA in overcoming the challenges I mentioned previously. I am aware of the voice I have working for a larger company and the access to clients that affords. I will be focusing on communicating the important work ICoCA does and why it sets apart its members from many others in the industry. I also see that although the objective of membership should not solely be commercial gain, that there is an opportunity through working with the insurance industry for members to see premium reductions as a result of their clear adherence to improving conduct and delivery. Through the strong links I have with the insurance industry I would like to assist ICoCA in attaining some additional peripheral benefits for our members. Finally, I would like to assist in supporting the small to medium sized members who don't necessarily have access to the resources available to larger companies. I intend on working with ICoCA to help provide online resources and partake in knowledge sharing to support small to medium sized companies, which in turn will help raise standards across the sector.