In August 2020, Guard Dog Security Services became the first private security services company to join ICoCA from Papua New Guinea. We spoke to Neil Peterson, CEO of Guard Dog to find out more about the company, and why they decided to join ICoCA.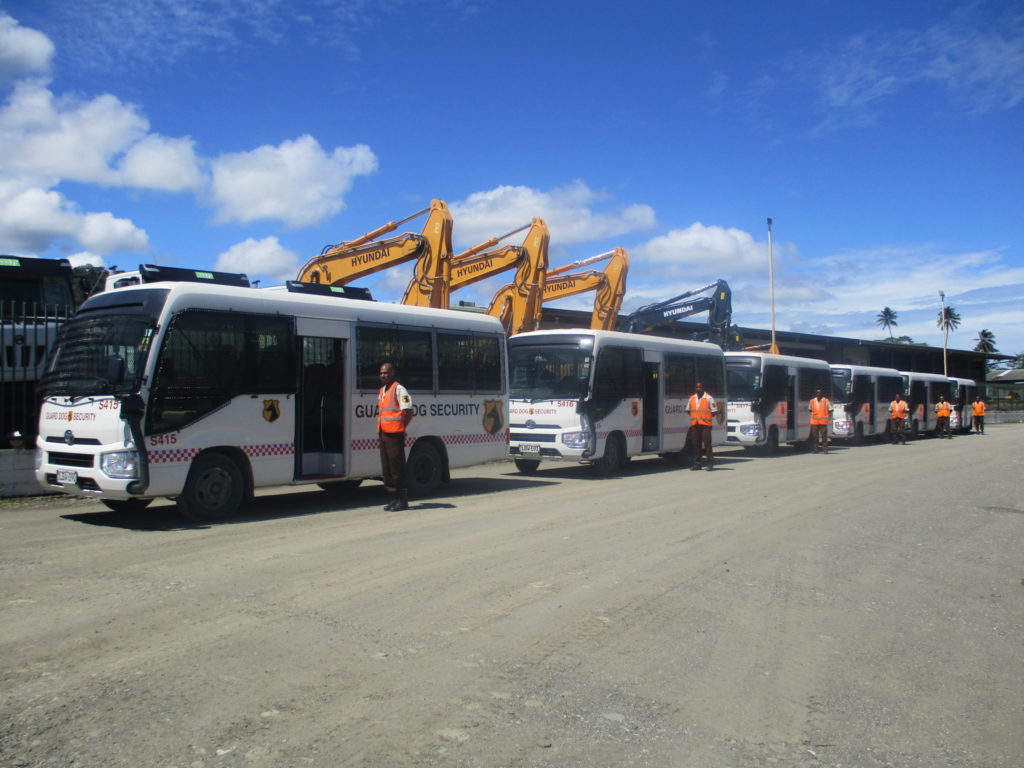 Guard Dog Security Services transport, Papua New Guinea
Can you tell us about the company.
Guard Dog is Papua New Guinea's (PNG) largest security company operating across all fields and industry segments, a private company started by Dennis and Sharyn Bux. Arriving in Papua New Guinea in 1965 from Australia, Dennis started his PNG career in the transport industry, after meeting and marrying Sharyn and establishing their own transport company they expanded into the security industry as the requirement grew within PNG. Initially from importing  15 Security Dogs and then through breeding programs and new imported stock the Kennels continue to grow along with the work force of Guards and support staff across all business units.
Dennis Bux is a naturalised PNG Citizen and one of the most experienced specialist dog breeders and trainers in the Southern hemisphere. With a wealth of experience in PNG and 45 plus years in the Security Industry, Dennis in his capacity as Chairman and majority shareholder heads the group.
Dennis and Sharyn still live in Lae, on the large Guard Dog Compound and whilst they claim they are retired both still keep a watchful eye over the day to day operations and company developments.
Guard Dog remains a family run company, with Kristy-Lee Schutte (daughter of Dennis and Sharyn) and her husband Brian leading the Group. Having held various positions within the Group, Kristy-Lee as Managing Director, brings Operational Experience and Administrative Compliance to lead the group. Holding formal qualifications in Business Management and Security, Kristy Lee's formal education and local experience compliment the Senior Leadership Team. Brian Schutte, Director and Group Chief Operations  Officer, has a military and commercial background and manages the operations and business direction with a dedicated team.
Guard Dog employ 5000 staff and have expanded into property and other business units with the core still being security services.
Can you describe the private security landscape in Papua New Guinea? Is the industry new, is it growing, who are the main clients of security companies?
With over 500 licensed Security Companies and in excess of  30,000 guards registered in Papua New Guinea the security landscape is one of necessity due to social and economic reasons rather than external or internal  threats of terrorism or political issues.
The Industry continues to grow due to the requirement to protect people and property. With the high number of companies operating within the industry, competition and pricing is competitive.
Guard Dog commit to providing a high quality service which ensures we can continue to reinvest in the company including vehicles and technology. Whilst we are a large company we also ensure that our clients understand the value a professional security provider brings to their organization rather than looking at just the cost per hour of a guard.
Guard Dog enjoys working with clients that include large International Organizations  to small and medium-sized businesses.
Why did Guard Dog Security Services decide to join ICoCA?
At the start of 2020 Senior Management committed to obtaining Quality Assurance Accreditation, having systems and processes in place that are aligned to ISO 9001 the company had never formally received independent accreditation. During our research into Quality Assurance standards and feedback from a number of our international clients we were introduced to the ICoCA.
As a leader in the security industry in PNG it was decided Guard Dog would aim to achieve the highest level of accreditation for our clients and also the company. Initially we were going to become a affiliate member but then realized the value of achieving full membership and pledging to becoming ISO 18788 certified.
Our customer base includes International Organizations across NGO, Foreign Government Departments and Corporate Industries which we realized membership would align with international requirements and continue to ensure Guard Dog as a leader within the Security Industry in Papua New Guinea.
What are the main challenges Guard Dog and other private security companies in PNG face in providing responsible service provision that respect human rights and international humanitarian law?
PNG has unique challenges in the provision of security including the violent activities such as opportunistic crime,  armed robbery and carjacking incidents plus with a diverse culture of tribes, clans and languages, violence unfortunately has been a part of the PNG landscape.
The immediate response can be resorting to situations with excessive force which can then lead to pay back issues and escalating violence. Having introduced Voluntary Principles on Human Rights training to our security guard courses 17 years ago there is ongoing training and education to conduct professional attitudes and actions in the face of violent situations to improve responses.
How can ICoCA help raise industry standards within Papua New Guinea?
As more companies, countries and International Organizations realize the benefits of aligning and committing to international regulations and standards then the industry will improve in its standards in PNG.  Guard Dog promote our membership so as other established companies may also see the benefits.
In only our first year of membership eventually we would look to support and participate more within ICoCA activities and development to further promote the standards in the Asia / Pacific Region.