SIXTH ANNUAL GENERAL ASSEMBLY REPORT
06/01/2020
Event, Report, Update
ICoCA's Sixth Annual General Assembly took place in Geneva, Switzerland, 20-21 November, 2019. Over one hundred Members, Observers and Clients attended from around the world. Best practices were shared and Members voted on a number of key decisions that will have significant implications for ICoCA in the years ahead.
New Affiliate Category
Members voted in favor of creating a new corporate 'Affiliate' category as of 1 January, 2020. ICoCA 'Affiliates' are not Members of the Association, however, they agree to operate in compliance with the Code, are subject to monitoring by the Association and must complete the annual Company Self-Assessment. Affiliates, however, are not bound by the same timeframe as Transitional Members to become ICoCA Certified Members. This new Affiliate status ensures the Association is inclusive of those Private Security Companies eager to demonstrate their compliance with the Code but not yet ready to start the process towards ICoCA certification. It was also agreed to move back the first deadline for ICoCA Certification from April 2020 to December 2020 and to alter subsequent deadlines to the 31st December of the third calendar year of Transitional Membership. This therefore provides more time for Transitional Members to become ICoCA Certified and brings Certification deadlines in line with the financial year-end.
New Board Directors
Following the elections, we are pleased to announce that four new Directors have joined the ICoCA Board as follows:
Frédéric Chenais, Political Advisor, Business & Human Rights, Swiss Department of Federal Affairs, replaces Rémy Friedmann as the new representative for Switzerland and the new Board Chair
Cliff Johnson, Attorney, US Dept of State replaces Kate Gorove as the new representative for the US
David Hornus, Founder of Corpguard, replaces Chris Sanderson as the new representative of the Industry Pillar – UK/Europe
Caleb Wenga, Founder of Usalama Reforms replaces Joshua Loots as the new representative of the Civil Society Pillar.
Charlie Mayne was re-elected to Board for a second term as Industry Board representative representing 'Rest of the World'.
All retiring Board members were thanked for their work and dedication to ICoCA. Special thanks was also mentioned to Rémy Friedmann, who stood down as Chair of the Board of Directors having held the position for a maximum two terms since ICoCA's inception six years ago. Rémy has worked tirelessly on ICoCA's behalf and it is a testament to his efforts that he leaves the Association well positioned for the coming years.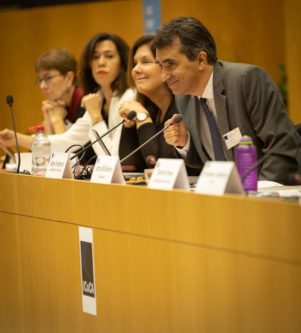 Sharing Best Practice
Highlights of the AGA included the plenary panel 'Preventing Sexual Exploitation & Abuse: From Policy to Practice' moderated by Sorcha MacLeod, Marie Skłodowska-Curie Fellow and Associate Professor, University of Copenhagen & Expert Member of UN Working Group on the use of Mercenaries. Tina Tinde, PSEA Advisor, International Federation of Red Cross & Red Crescent Societies (IFRC), provided sobering testimony that demonstrated a disappointing lack of progress made during the decades she has been working on this issue. She commended ICoCA and its Members for shining a spotlight on this issue and for providing a model for others in the industry and beyond to follow.  Deirdre Brown MBE, Head of Multilateral Policy Unit, Multilateral Policy Directorate, UK Foreign & Commonwealth Office provided the UK government's perspective. Governments, like any other organisations, need to tackle this issue head on, and she stressed that a zero tolerance approach is the only way to avoid a culture of exploitation and abuse from taking hold. Andrew Farquhar CBE, Managing Director of Garda World UK provided practical insights on how Garda are putting policy into practice by involving the entire workforce, and how this needs to be inclusive of everyone, from the senior leadership team to the guards on the gate.
Other highlights of the AGA included a panel on 'The Role of Clients: Towards Shared Responsibility'. During this session, attendees heard from representatives from the UN, General Electric and Philip Morris International, all of whom contract private security companies and all of whom favor ICoCA Members in their procurement policies. A panel on 'Human Rights Trends: Perspectives from Civil Society' provided perspectives from a number of contrasting civil society organisations operating in different regions of the world.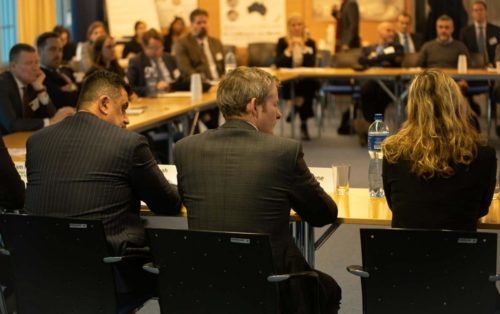 Photographs from the AGA are available here.