ALPHA SECURITY AND CONSULTING – COMPANY PROFILE
16/05/2023
Profile
Alpha Security and Consulting: Managing a Responsible Security Organisation in the Democratic Republic of the Congo
ICoCA Affiliate since September 2021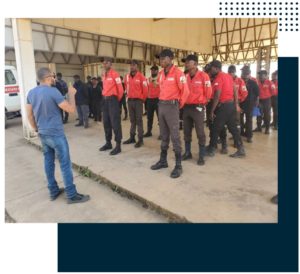 Providing Local Security Services in the Democratic Republic of the Congo
Alpha Security and Consulting (ASC) is a private security provider based in Katanga and Kinshasa with operations throughout the Democratic Republic of the Congo (DRC). With approximately 1,000 active employees based in ten cities, ASC is committed to providing quality security services throughout its areas of operation, including physical guarding, escort services, risk consultancy, canine brigades, and security equipment installation.
Like many private security companies in the DRC, ASC is a local organisation providing extensive in-country support. According to Xavier Hottelet, General Director of ASC, and Kevin Toussaint, ASC's Deputy General Director, the company became an ICoCA Affiliate in 2021 "to improve our quality, our compliance standard, and to access certain tenders" requiring ICoCA due diligence and certification. As the Congolese security industry becomes increasingly competitive, both Mr. Hottelet and Mr. Toussaint believe that ASC's reactivity and communication network set them apart from other security providers in the region, and that their ICoCA Affiliation gives them credibility, especially within the mining sector.
The Importance of Responsible Operation Within the Congolese Mining Industry
The DRC remains one of the world's leading producers of copper, diamond, tin, and gold. Over the past several decades, the Congolese private security sector has expanded to meet the security needs of mines and refineries, with more than eighty recognised security providers operating within the country.
But human rights compliance and oversight have not kept pace with this tremendous growth. Although the oil and mining industries bolster economic development, the accompanying demand for private security has yet to be matched with proportionate industry governance. In some cases, unmonitored private security companies may violate Congolese labour laws under the radar, resulting in harsh working conditions, gender discrimination, low pay, and limited social benefits for security personnel. Mr. Hottelet and Mr. Toussaint name the workforce level and political climate within the DRC as additional barriers to responsible operation.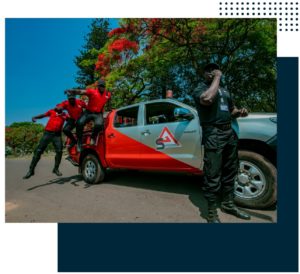 Ensuring a More Responsible Future Through Increased Human Rights Monitoring
In light of these challenges, ASC is determined to help raise the industry's human rights standard and set a positive example for other local providers. Alpha Security's specialised training, close supervision, social benefits, hospital access, and company-wide commitment to ethics demonstrate the organisation's alignment with the International Code of Conduct and the values of ICoCA. In the years ahead, ASC hopes to continue providing responsible security services to Congolese communities, contributing to the mission and objectives of the Association through its continued focus on human rights monitoring and governance.
Learn more about Alpha Security and Consulting by visiting their website.