IRAQ MISSION REPORT
05/04/2023
News Highlights, Report, Update
ICoCA Sees Unprecedented Growth of Private Security Companies in Iraq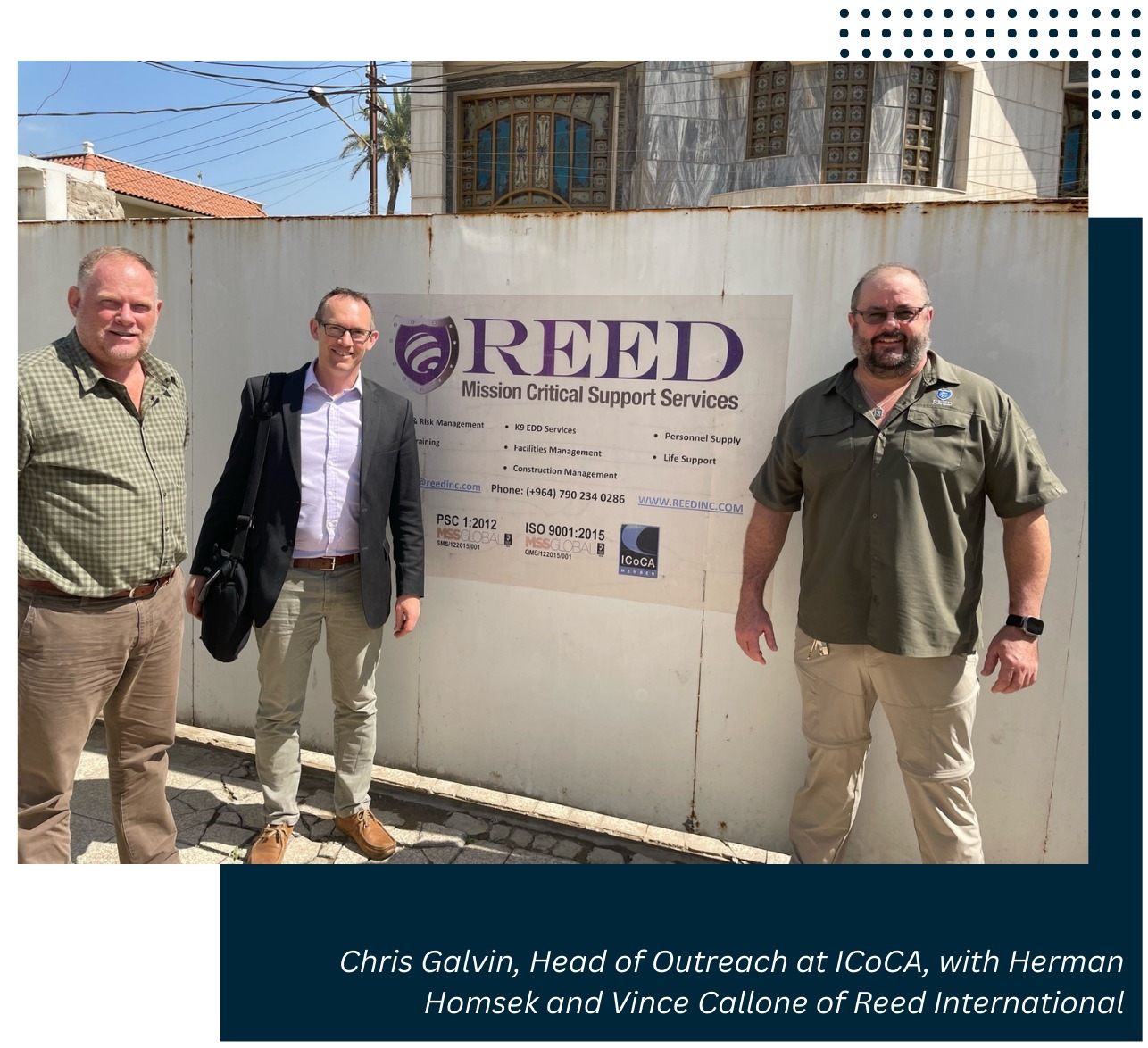 Iraq is seeing a significant expansion in the number of ICoCA Member and Affiliate Private Security Companies (PSCs). In June 2022 there were 12 such companies headquartered in Iraq; today there are 19. With 16 foreign-based PSCs in addition, there are currently 35 ICoCA Member and Affiliate companies operating in Iraq. To support these companies, and to further understand the challenges they face, ICoCA sent a team to Baghdad from 11-17 March.
The growth in ICoCA Member and Affiliate companies in Iraq is unprecedented, and it is clear that ICoCA—as a benchmark of a PSC's commitment to human rights—is highly valued by both PSCs and their clients, as demonstrated by the increase in tendering requirements for ICoCA. Iraq has a highly mature private security industry and international standards are widespread. ICoCA, and particularly ICoCA Certification, is a key part of the international standards which are being demanded.
In Baghdad, ICoCA personnel met with PSCs which have joined ICoCA, and also PSCs which are interested in joining and making that commitment to human rights. ICoCA also met with clients of PSCs and members of the diplomatic community, with a goal to raise awareness of ICoCA and the value that ICoCA brings. Key messaging centred around human rights due diligence, and how ICoCA can help an organisation—both a PSC and a client which procures security services—to meet their human rights responsibilities.
In addition, ICoCA met with Civil Society Organisations from across Iraq to learn from their unique perspective about how PSCs can impact local communities and what changes should be advocated for.
Building on the significant growth in ICoCA Member and Affiliate companies, further expansion is expected as clients which procure security services increasingly require ICoCA in their tenders, and both these clients and PSCs more fully recognise their human rights responsibilities.