GRIFFIN SECURITY – COMPANY PROFILE
09/02/2023
Profile
Griffin Security, the First ICoCA Certified Member in Yemen
ICoCA Certified Member since November 2022
With its Head Quarters located in Sana'a and services covering the whole of the country, Griffin Security joined ICoCA in November 2022 as the first Certified member in Yemen. The company has 730 employees and provides a range of security services including close protection, personal bodyguards, executive services, security drivers, rapid response teams, area surveillance and patrolling, guarding, remote site security, and maritime security. The company is also involved in consultancy services and provides physical security solutions for the protection of equipment and personnel in both rural and urban locations.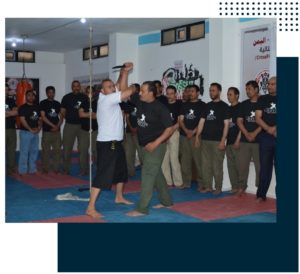 Overview of the Emerging Private Security Sector in Yemen
According to Yasser Alwan, Griffin Security General Manager, the private security sector in Yemen is still in its infancy, but signs of growth are present. Mr. Alwan states that there are "5 to 6 capable companies in total [in Yemen]" at the moment, therefore Griffin Security can become an important actor in human rights due diligence and help set responsible standards for an emerging industry as an ICoCA Certified Member.
In Yemen, state regulations regarding the private security industry are enforced by the Ministry of Interior who grants special permits for any entity who wants to operate in this field. The state forces and private security are complementary to each other, without any sign of competition between the two.
In general, most of the clients of private security companies in Yemen are government agencies, such as embassies or representation offices. NGOs and private sector companies also employ private security services, mostly in the oil and gas (extraction) industry.
A Country with Many Security Challenges
Operating a responsible security company in Yemen comes with its own set of challenges. "Ongoing war in the country is the main challenge we face due to the continuous security measures changes", said Mr. Alwan.
Operating on both sides of the country, which are controlled by two opposing authorities, is another major challenge. Conflict zones are always extremely difficult to manage, but this is why it is so important to create a well-regulated and standardised industry that puts respecting human rights at the core of its values, for Griffin to provide its services to its clients in Yemen in such a crucial time and sensitive environment. "ICoCA's mission is to raise private security industry standards and practices that respect human rights, and that is what we follow in our company", Mr. Alwan explains. Through their membership, Griffin Security hopes to participate in increasing awareness about human rights in the region.
 Shaping the Future of the Security Industry
Looking ahead, Mr. Alwan sees overcoming the post-COVID economic crisis that affected the international economy as the biggest challenge for the company. As ICoCA celebrates its 10-year anniversary this year, he believes there's an opportunity for the Association to grow its network of security service providers globally, to be the common vehicle through which service providers can communicate, network, and exchange information.
"We hope to raise awareness in Yemen by putting forward our ICoCA membership with our clients in order to create some curiosity for the Association and its principles aiming at them to be a mandatory requirement eventually for all the private security companies working in the country." – Yasser Alwan, Griffin Security General Manager.
Learn more about Griffin Security by visiting their website.