VESPER – COMPANY PROFILE
08/02/2023
Profile
Vesper: a Swedish, Intelligence-led Security Company
Joined ICoCA in September 2013
ICoCA Certified Member since July 2017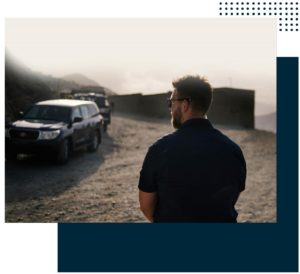 Vesper's DNA: High Standards
Vesper offers protection for people travelling to, or residing in, some of the world's most dangerous countries. Since 2004, the company has been a widely respected provider of close protection services for companies and government agencies, as well as for humanitarian organisations worldwide, operating in countries such as Ukraine, Iraq, Libya, Afghanistan, Pakistan, Tanzania and Russia.
From its start in 2004, the company had been defined by high ethical and moral standards. Vesper joined ICoCA at the launch of the Association in 2013, and became the second company in the world to attain ICoCA Certification in July 2017. Since then, the ICoCA certification and Vesper's policies have provided daily guidance to employees, with the company keeping a close eye on standards.
10 Years of Building Trust in the Security Industry
For Vesper, adherence to compliance is non-negotiable in the security industry, as evidenced by both past and current events. Commitment to upholding human rights, ethical standards, and providing well-trained personnel is what drew the company to join ICoCA from the beginning. According to them, this not only benefits their customers and the industry, but also the local communities in which they operate. Through training on codes of conduct and humanitarian law, local employees are equipped to promote good practices and the rule of law.
 "To constantly work for human rights values and good ethics, to have well-trained and equipped personnel with high standards is a win-win for the customer and the industry" – Richard Möller, CEO, Vesper Group
Vesper customers express that a certified security supplier can be a gamechanger, seamlessly breaking the barriers to conducting business in high-risk areas. The Vesper team believes that compliance as a security provider is crucial in mitigating risks for businesses and their staff, as well as safeguarding companies' reputation from the harm that could be caused by working with a provider that does not meet standards.
Staying True to High Standards in the Changing Security Industry
If Vesper has remained committed to its values and high standards, the company recognises that there has been a growing trend towards unqualified staff and unrealistic customer expectations in the industry. For example, they found that the definition of a Close Protection Officer is getting broader and the expectations on their performance less specialised. On the bright side, topics such as human rights values, ethics and compliance are now much more present in their daily work.
As the industry evolves, they see the threat of price dumping as the biggest challenge facing them. This practice can lead to impaired quality and attract dishonest actors to the industry, which puts both customers and local communities living in complex environments where security services are often performed, at risk. Vesper believes that it is important for customers to choose responsible and certified companies, and equally important to be aware of the risks associated with choosing suppliers based solely on price.
The disregard for moral and ethical boundaries in warzones by some Private Military Companies poses for Vesper an important challenge in the years ahead that must be addressed by the international community. 10 years after joining ICoCA, Vesper is more than ever committed to being a responsible actor, involved in the process of professionalising and quality-assuring the security industry. In light of the current conflicts in Europe and a shifting global security paradigm, the company believes there is a significant opportunity to uphold these commitments.
Learn more about Vesper by visiting their website.