TA'AZ SECURITY COMPANY – COMPANY PROFILE
06/02/2023
Profile
TA'AZ Security Company, an Iraqi-Owned Security

Provider

ICoCA Transitional Member since December 2022

TA'AZ Security Company is a 100% Iraqi-owned security provider that offers a range of services including Static Security Services, Mobile Security Services, Risk Assessment Reporting, and Airport Client Services. Currently operating in the Republic of Iraq, the company has approximately 700-800 employees and is a Transitional Member of the International Code of Conduct Association (ICoCA) since December 2022.

Iraq has been facing numerous challenges in the last two decades, including political instability, violence, and a weak economy. Despite these difficulties, private security companies have played an important role in ensuring the safety and security of individuals and businesses operating in the country. However, operating a responsible security company in Iraq is not without its challenges.
Overcoming Challenges in the Iraq's Security Landscape
According to Mr. Albert, TA'AZ Security Country Manager, one of the biggest challenges faced by private security companies is the retention of staff. "This is a continued issue for all companies in Iraq", as the high-stress and dangerous work environment can lead to high levels of burnout and turnover. This means that companies must constantly invest in finding and training new staff, which can be both time-consuming and expensive. Pricing and resource management are also challenging, as budget constraints from clients seeking cost-effective solutions puts pressure on companies to maintain competitive prices while still providing high-quality services and investing in necessary resources and equipment.
Adapting to changing environments and profiles is another challenge, as the threat landscape in Iraq is constantly evolving. This can be driven by a variety of factors, including changes in the level of violence in a particular area, or changes in Iraqi state legislation. The rapidly evolving security situation in Iraq requires companies to be adaptable and able to quickly increase or decrease resources in response to changes in demand while still ensuring adequate personnel and resources. Companies must be truly dynamic to adapt to these changes, which can be a major challenge for smaller organisations.
Finally, private security companies in Iraq must constantly keep up with the ever-changing government security compliance requirements, such as obtaining expatriate work visas, relevant access and movement documentation, and security licensing registration. These requirements can change quickly, and companies must be able to respond accordingly in order to maintain their legal and operational status in the country.
Charting a Path to Growth: TA'AZ Security's Vision for the Future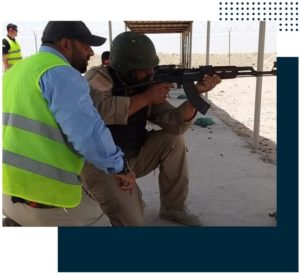 "We see ICoCA as a benchmark for our service delivery and a way to demonstrate to our clients that we can operate at a Security Tier 1 level," explains Mr. Albert. "Being 100% Iraqi-owned and belonging to a group of companies with multiple income streams sets us apart and allows us to bid for security work at commercial rates, delivering consistent high-quality services." Currently, TA'AZ Security Company advises that it is also the only Iraqi-owned security provider that serves as the main security contractor to two international oil companies, further solidifying its strong position in the industry.
The biggest challenge facing TA'AZ Security is maintaining its robust presence as an Iraqi-owned security provider in Southern Iraq. In a highly competitive market, the company must continue to innovate and provide a high level of service to its clients in order to stay ahead of the competition. TA'AZ Security must also be prepared to adapt to changing circumstances in the region, including shifts in political and economic conditions.
Despite these challenges, the company sees significant opportunities for growth in the years ahead. "The Republic of Iraq is evolving and deciding its own destiny in the Middle East, and this presents clear opportunities for Iraqi-owned and operated companies like TA'AZ Security to thrive and grow", says Mr. Albert. Part of TA'AZ Security's growth strategy is to challenge the perceptions about Iraqi-owned and operated security providers as operating at a lower level than Western security companies.
Learn more about TA'AZ Security Company by visiting their website.