AGWE – COMPANY PROFILE
06/02/2023
Profile
Agwe, a Nigerian Marine Risk Solutions Provider
ICoCA Certified Member since January 2023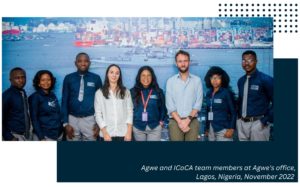 Comprehensive Security Solutions for the Maritime & Energy Industries
Agwe is a bespoke risk consultancy firm that operates primarily in Nigeria and other West African maritime exclusive economic zones. The company currently has 12 employees, and is growing in several countries such as Nigeria, Greece, Germany, India, and Dubai.
Services offered by Agwe include security services for the Marine and Energy Industries, risk assessments, and security risk project planning for offshore projects. The company strives to offer the best possible services and is committed to operating within the parameters governed by international standards and local compliance, in relation to their management systems and Human rights. This is reflected in Agwe's membership in the International Code of Conduct Association (ICoCA) since January 2023. By joining ICoCA, "[the company] also wanted to provide the additional assurance over and above ISO18788 certification, that Agwe's policies and procedures are not only in place and compliant but also that we as a company follow them", Dan & Tom, two of Agwe's Directors, explain.
Balancing Local Roots and Social Responsibility in the Nigerian Maritime Industry
Agwe have a fluid understanding of the climate they operate in and are well versed in local content. The company places a strong emphasis on their staff, providing a supportive and collaborative work environment that prioritizes open communication and idea-sharing. Agwe has also established strong relationships with Host Nation Navies.
In addition, Agwe is dedicated to giving back to the community. They support local businesses as well as local charitable organisations, including academic institutions, assisting those that wish to build their career in the Nigerian maritime sector and further.  They also welcome and provide resettlement training for those leaving the Nigerian Navy and those who have retired. These efforts demonstrate Agwe's commitment to being not just a company that operates in the Nigerian Maritime Industry, but a company that is an active participant in and a contributing member of the community.
Addressing Safety and Security Concerns in an Evolving Landscape
The maritime industry has been facing numerous challenges, including safety and security concerns for vessels and crew, as well as compliance with ethical and regulatory standards. Operating a responsible security company in these environments comes with its own set of challenges, the most significant one for Dan & Tom being "finding partners that operate with the same ethics, responsibilities, and standards as the company". The temptation to prioritise cost over everything else can be strong, and Agwe's main challenge in the years to come is educating and convincing clients about the importance of working with trusted partners who have the necessary due diligence and experience to operate and support their security needs, as opposed to basing the security needs & safety of their crew & vessels on cost alone.
According to Dan & Tom, ICoCA's main challenge is promoting the organisation to those who are operating without commitment to ICoCA, especially in the Marine industry. "ICoCA needs to preach to shipping organisations, charterers, and owners about the benefits and implications of working with those who do not play by the same rules, standards, or ethics." With conflicts around the globe on the rise, it is more important than ever for observant companies to report human rights issues to make them public knowledge. Companies in the marine industry need to understand that working with experienced and ethical partners is not only beneficial for their business, but also for the wider community. By promoting the principles and standards set by organisations such as ICoCA, companies can help to ensure the safety and security of vessels, crew, and communities affected by the maritime industry.
Learn more about Agwe by visiting their website.