DORCAS, GARDAWORLD, KENYA
08/03/2021
Profile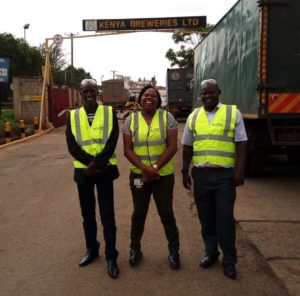 Dorcas, GardaWorld, Kenya
How did you get into the private security industry?
I have been in the industry for two decades, and in my current role as an Operations Manager for 6 years. Beforehand, I was a casual employee at East African Breweries Limited, where KK Security (now GardaWorld) was providing the security. I developed my interest in the sector due to the constant interaction with the Security Officers and the work they did – I soon went on to join as a security officer and then in the control room, and have never left.
What is a normal workday like for you?
Currently I am an Operations Manager in the Industrial Area Branch. My duties are wide-ranging, and include handling Guardforce disciplinary issues, carrying out investigations surrounding incidences that occur within my area, contributing to company growth, and developing and identifying growth opportunities within my team.
What is it like to be a woman working in a job / industry that people often think is a man's job?
This has definitely been a challenge, as working in a male-dominated field people have many preconceptions, and you really have to assert your authority at times to be taken seriously.
However, women should not shy away from joining this sector. If you embrace it, set goals, and maintain integrity and your principles in everything you do, then you can definitely succeed.