ALICE, WS INSIGHT
08/03/2021
Profile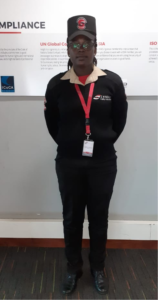 Name: Alice
Age: 32 years
Length of service: 2 years
What is a normal day like?
I wake up 4:00am and get ready to go work. I prepare my 10 year old child for school and leave her with the house girl. I leave the house by 5:15am and get to work. I start my shift at 6:00am. I work at the main gate of an office building. The main job is guarding the main entrance of the building. I carry out security searches on vehicles, visitors and staff members. We also patrol the building, amongst other tasks. My day ends at 6:00pm. I patrol the building on last time to ensure that all is in order, then I handover duties to the incoming night shift guards.
I go back home. I spend some time with my child. We cook, eat then head to bed at about 9:00pm.
How does working in security fit in with your family life?
I'm doing great in this field; however, it is a little bit challenging in that I don't have much time to spend with my family. But the little time I have, I ensure that I spend quality time with them.
What is it like to be a woman working in a job that people often think is a man's job?
I don't think that this job is a man's jobs. There are aspects of the job that require women to do, for example, a man cannot search a lady. You need a woman to do that. For me, I am comfortable with the job and working with men.