James Otigbah, CEO of Excel Security Solutions shares his views on ICoCA and the foundation he created dedicated to the prevention of sexual exploitation and abuse.
Can you tell us a little about Excel Security Solutions?
Excel Security Solutions AG, Switzerland operates nationally and internationally with a focus on providing close protection services and risk monitoring for operating in complex environments. Excel's speciality is working intimately with each of our clients to provide specific solutions to their individual needs. I myself have extensive experience in the security industry including as the Security Advisor for the Swiss Embassy in Nairobi and Close Protection Officer to the Swiss Ambassador to Somalia.  I'm passionate about sharing security expertise and creating programs which help people improve their security and safety. Excel Security Solutions has been a member of ICoCA since Sept 2016 and is also a certified training institute through EduQua Switzerland.
As a Swiss based security company, I am guessing that joining the ICoCA was a relatively easy decision for you, but what impact has membership of ICoCA had for your company?
Yes, joining ICoCA is a must for a Swiss company like ours and is important as a globally operating security firm operating under the Swiss Federal Act on Private Security Services provided Abroad (PSSA).  ICoCA membership provides us an important professional base and as a small firm it pushes us to complete other accreditations, for example our ISO certification. Although membership has not had a direct impact in the short-term, we are hopeful about the long-term benefits.
What would you say to other small private security companies who are considering joining ICoCA but who are concerned the requirements may be too burdensome and/or too expensive for a small-scale operation?
It's important to distinguish between the financial and administrative costs of becoming an ICoCA member, and those associated with attaining ICoCA certification. While joining ICoCA does require an annual membership fee and some administrative tasks, these are not overly burdensome. For a small-scale company like ours however, there are some challenges to becoming a certified member of ICoCA. Attaining the industry standards accepted in the current policies and procedure for ICoCA certification, requires a significant financial investment and substantial administrative workload. This is an important consideration to weigh carefully for a small enterprise and it might not be the best fit for all. In the future, it would be good to see more policies, benefits or perhaps a tiered membership structure to make it easier for smaller enterprises to become certified members of ICoCA. In the meantime, this shouldn't deter smaller companies from joining as members of the Association. ICoCA membership is important for us at Excel Security Solutions and it is part of our strategic plan to be an active member, as it helps us to achieve our goals of operating globally and living up to the highest standards of the industry.
You recently attended a one-day workshop held by ICoCA on preventing sexual exploitation and abuse. Why do you think this is an important issue for security companies and what did you take away from the day?
In the workshop there seemed to be consensus that NGOs and security firms aren't yet doing enough to address the issue of preventing sexual exploitation and abuse and that a good solution has not yet been found. Since so much of the effort is focused on the survivor centered approach of sexual abuse victims, one solution that we propose is to integrate more efforts on the prevention of sexual abuse happening in the first place, by giving women and children adequate tools and a voice to protect themselves.
Can you tell us a little about your foundation, how did the idea come about and what impact are you having?
I am a co-founder of the I AM MY BODYGUARD foundation which is a global organization dedicated to giving all children and women the ability to protect themselves against all types of violence; including gender-based sexual violence. In 2013, Excel Security Solutions worked under the supervision of counsellors and child psychologists of an international non-profit organization — Innocence in Danger (IID) – to develop a workshop specifically targeting children who had been sexually abused, to help them regain their confidence; this was the beginning of the initial I AM MY BODYGUARD workshop. Following the initial success of the workshop, Excel developed a course specifically for some of the victims' mothers, who were often also victims of abuse. This program was named Fight Like a Girl!.
The catalyst for the creation of the foundation occurred through a chance meeting on a professional social media platform between myself and the the other co-founder, herself a victim of sexual violence. The goal of I AM MY BODYGUARD is to conduct these workshops on a non-profit basis, through donations and funding support, so that we can reach as many children and women as possible and particularly make an impact on groups in high-risk areas or locations where they may not have free access to these services.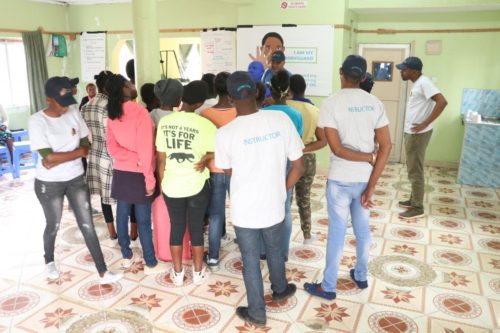 In light of the recent PSEA workshop and the effort that ICoCA has given towards this issue, we hope to collaborate with more partners to host more workshops from the I AM MY BODYGUARD foundation in the communities they operate in. The workshops not only help the individuals, but can also make a substantial impact in the communities and presents an opportunity for security firms to make a positive difference in the complex environments they operate in. We feel, that with ICoCA's network and support and as a Swiss company compliant with PSEA, we can provide this kind of new approach, prevention, that has the potential to make a big difference in the lives of the communities that all ICoCA members work in and can be a new approach for organizations and other NGOs to consider. We have been successful so far and look forward to more collaboration together.