ENGAGING CHINA ALONG THE BELT & ROAD INITIATIVE
09/01/2020
Event
Securing the Belt & Road Initiative
As the Belt and Road Initiative (BRI) progresses, the risks and threats faced by China's overseas interests are increasing. Ensuring the safety and security of Chinese enterprises and Chinese citizens overseas, particularly those operating in complex environments, is becoming a key priority for China. Given China's longstanding non-interventionist foreign policy, however, the People's Liberation Army (PLA) plays no significant role in protecting Chinese interests overseas. Instead, private security companies are becoming increasingly called on to secure China's foreign assets, including Chinese civilians. So how can China and the companies operating to secure their interests abroad, ensure that human rights are protected and relevant humanitarian, international and national laws are respected?
Promoting the Provision of Responsible Private Security
In November and December 2019, ICoCA was invited to present at two separate forums in China, both focusing on the question of how the BRI projects can ensure the provision of responsible private security. Jamie Williamson, Executive Director of ICoCA presented at the second Non-Traditional Security (Hangzhou) Forum held in Hangzhou on November 9, 2019. With the theme of "Non-traditional Security and Protection of Overseas Interests", the forum included over 100 experts and scholars from international organizations, security technology companies, security service companies and research institutions who exchanged views on best practices of international regulation, digital and intelligent security and overseas security service.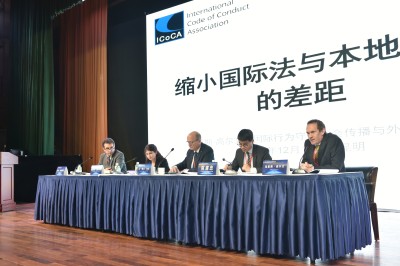 Rémy Friedmann, the immediate past Chair of the ICoCA Board of Directors, Charlie Mayne, ICoCA Board Director & Chris Galvin, ICoCA's Head of Communications & Outreach presented at the Second International Forum on Security and Law, held in Kunming on December 16 & 17, 2019. The Forum focused on improving the security legal regime with special focus placed on the BRI. Over 270 people attended the forum, organized by the China University of Political Science and Law and co-convened by the Swiss government and the ICRC. Attendees included representatives from many private security companies, both Chinese and international companies operating along the BRI, along with government representatives, including the Swiss Ambassador to China, policy advisors, academics and expert practitioners. ICoCA was referenced throughout the discussions as the leading organisation that ensures respect for human rights and international humanitarian law in the provision of private security services. ICoCA looks forward to continuing engagement with Chinese and other companies operating along the BRI, along with the Chinese government.